Experience advanced cleaning power with the Bosch Serie 8 WIW28500GB Washing Machine. This built in, front loader machine boasts an impressive 8kg capacity, capable of taking on large loads. And with a maximum spin speed of 1400 rpm, you can tailor each wash to get the right settings. Featuring the latest in Bosch cleaning technology, this washing machine offers a performance like no other.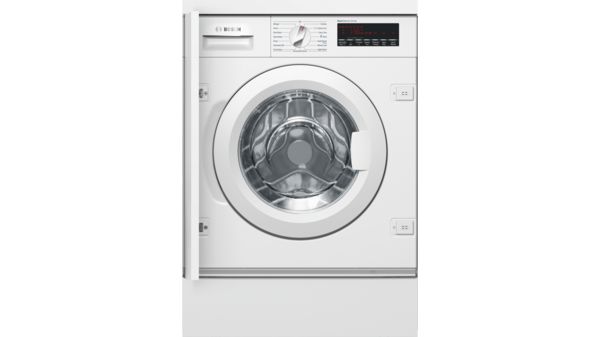 Kind to Clothes
Unlike other machines, the WIW28500GB is gentle to clothes. With a unique WaveDrum structure, clothes are carefully agitated using precise drum movements and constant water flow. Delicate fabrics are protected, while still receiving a thorough clean. Trust Bosch to look after your clothes, while still producing brilliantly clean results.
Saving Money & Energy
With Bosch's commitment to saving energy, you're guaranteed an appliance that's as energy efficient as can be. The WIW28500GB doesn't disappoint. With an A+++ energy efficiency rating saving 30% more energy than a standard model, and the Bosch EcoSilence Drive™, you won't find a more eco friendly machine.
Use less water in your wash thanks to ActiveWater Plus technology. The ActiveWater water management system uses the precise amount of water needed for each cycle, assessing the load and adjusting the settings accordingly. So, not a drop is wasted. Helping you save money and protect the environment.
This appliance is designed to last. Featuring AquaStop protection, water damage is prevented. So, your machine will last for many years to come. AquaStop lasts for the lifespan of the machine. Meaning you can buy with confidence. Programs for Every Need
The WIW28500GB comes with a range of programs designed to suit every need. From AllergyPlus, caring for those who suffer with allergies or sensitive skin. To Sportswear, protecting and enhancing modern microfibres and tackling mud and grass stains. For people who need clean clothes in a hurry, the Super Quick 15/30 cycles are ideal. Other programs include Shirts, Night Wash and Mixed Load.
Features Designed to Make Your Life Easier
Bosch knows that life gets busy. That's why they design their appliances to make life that little bit simpler. Take Reload for example. If you need to add an item to your wash after it's already begun, you can simply pause the cycle, wait for any water to drain and pop the item in. Or how about the DrumClean program that keeps your washing machine running for longer? And with a handy reminder so you won't forget.
Thanks to the machine's AntiVibration™ design and EcoSilence Drive™, you'll experience a much quieter washing cycle, even during high spin times. With a more stable design, you can run your cycle at any time, without worrying about disrupting your household.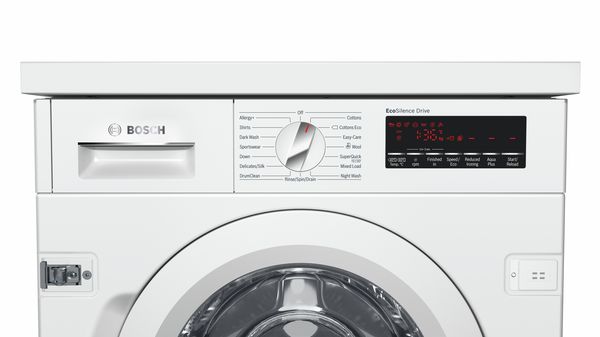 Order the Bosch WIW28500GB Washing Machine in store, by phone or online today from Bedminster Domestic Appliances. A trusted local retailer, we offer fast delivery and installation throughout Bristol. For more information about the WIW28500GB or any of our other Bosch products, contact a member of our team on 01179 665 833.